Smart Virtual Office Singapore buys we do not rent
At Smart Virtual Office, we are the only company that is able to give you the true peace of mind. We bought our offices as opposed to purchasing it. We are in no worries that the landlord may chase us out. Can you imagine what happens if your Virtual Office Provider rents the place and the landlord were to chase them out? You would have a lot of issues to contend with:
Change of address with ACRA
Change of address in business cards
Change of address in Signages or stationaries like letterheads, websites, envelopes
Inform all clients of the change
Inform relevant authorities like banks, and governing bodies for the change
Inform your Clients
Inform your suppliers
Just to name a few.
Do you really want this? Cna you imagine the nightmare when they close down. They apologize, move on to a new location and leave you hanging.
Ask your service provider to provide you with a 10/20/30 years guarantee that ensures that you can continue to do business at the address should you require it! We have one! Look at our guarantee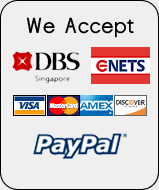 Our Guarantee:


If after you purchase our service within 30 days and you feel for any reason that it fails to live up to our promises, or even if it does and you change your mind, simply write in to us, and we will immediately give you a 100% refund of the purchase price,
NO QUESTIONS ASKED.