Lowest Cost Virtual Office
At Smart Virtual Office Singapore, we believe this should be cheap and should not have to be constantly priced up!
For every business out there looking for a Virtual Office in Singapore, we know what it is like to be like you. Some of the clients are already complaining why their provider is constantly increasing their price.
We don't know why the increase in cost either, but we do know this....
Every dollar that you can save would be essential to your survival. BE FRUGAL!!!
We know you do not need an office, all you really want is to look for a place to "park" your business address. You do not need people to answer your calls, you got a phone divert service, its way cheaper. You do not need people to come down to see you, you will be at home working on their project or at your clients premise convincing them on the deal! Right, you want your mail, and a place to park your business that is all. How much should that cost?
How come we know so much about you, because we were once just like you! Why then would you want this simple service to cost you anything more and more each year? We believe that it should not also. We are fixed at $99.00 per year so that you can know that you are paying for the best valued and cheapest service!
How are we able to achieve this low low price and still stay competitive?
Its called COST CONTROL. We ensure our overheads are kept really low. This is achieved by:
Purchasing offices rather than renting preventing the landlord from ever increasing our rent. We purchased our offices so that we know exactly how much we will be paying. Thanks to our other ventures, we were able to pay for this office without a bank loan. There is no Virtual Office in Singapore that dare boast what we can. We will be around for 60 years at least, for the simple reason that we own the title deed of the location and would not be chased out of the premise by anyone.
Using IT as a key driver for higher efficiency and accuracy when running the business as opposed to using people. We have developed technologies to help us do the same job faster, better and more accurately. Having owned 2 IT companies, we learn that with proper workflow and systems in place, we can cut staff strength by as much as 80% and still be twice as fast or accurate.
Leveraging on the resources and experience we have from other businesses, eg we use our accountant from our IT company to do our tax, our Internet marketing specialist to help us with getting ahead in the company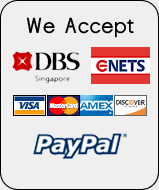 Our Guarantee:


If after you purchase our service within 30 days and you feel for any reason that it fails to live up to our promises, or even if it does and you change your mind, simply write in to us, and we will immediately give you a 100% refund of the purchase price,
NO QUESTIONS ASKED.