Highest fetaures for any Virtual Office
We have a whole army of features to keep your business alive. Smart Virtual Office is the first and probably the only one that has the expertise to provide you with the features at a fraction of the cost!. Smart Virtual Office is part of a much larger network of companies comprising of expertise from Marketing, Web Developments, VOIP, Accounting and Corporate Services.
Our parent company started way back in 2000. With over 6 years of experience and 4 existing businesses, we have the experience and expertise unlike most Virtual Office Providers. In the span of 6 years we started 4 companies and know what is the common denominator of a start up companies.
We are the ONLY one that provides these features
FREE Mail Forwarding in the 1st month
Most mail comes in the first month, because you are getting your banks and licences in
If you need additional mail, you can get it at $15 per month paid quarterly
FREE Namecard Design
It is important to leave a good impression, start with your namecard
Our namecards are professionally designed either locally or by our designers from Digital-Eve in the USA
We print and deliver to your door stepa at $50
FREE Hosting
What business does not have a web front
Your website is like a 24 hour salesman who will continue to sell your service while you sleep
We provide you the hosting for the first year subsequent year is at SGD $100 / year
Domain registration for .sg is at $65 and .com .org .net at $20 / year
FREE Shared Fax Forwarding
Some Service provider are charging a ridiculous price of $15 for shared faxing
We will look at the fax and send it to you.
Our fax numbers are golden numbers that cost us $1000 to purchase, its yours for free!
If you need dedicated fax, we charge a monthly charge of $15 / month for you own personal fax
FREE Daily SMS
When mail arrives, you will be given either an SMS or a call to inform you that the mail has arrived
FREE Web consultation
Our award winning team will provide you with a complete web consultation to discuss the various possibility of creating the various elements in your website
Our team clientele include Ministry of Education, Ministry of Defence, Walt Disney, Citibank, AIA and many of the famous brand in Singapore.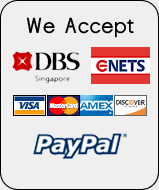 Our Guarantee:


If after you purchase our service within 7 days and you feel for any reason that it fails to live up to our promises, or even if it does and you change your mind, simply write in to us, and we will immediately give you a 100% refund of the purchase price,
NO QUESTIONS ASKED.